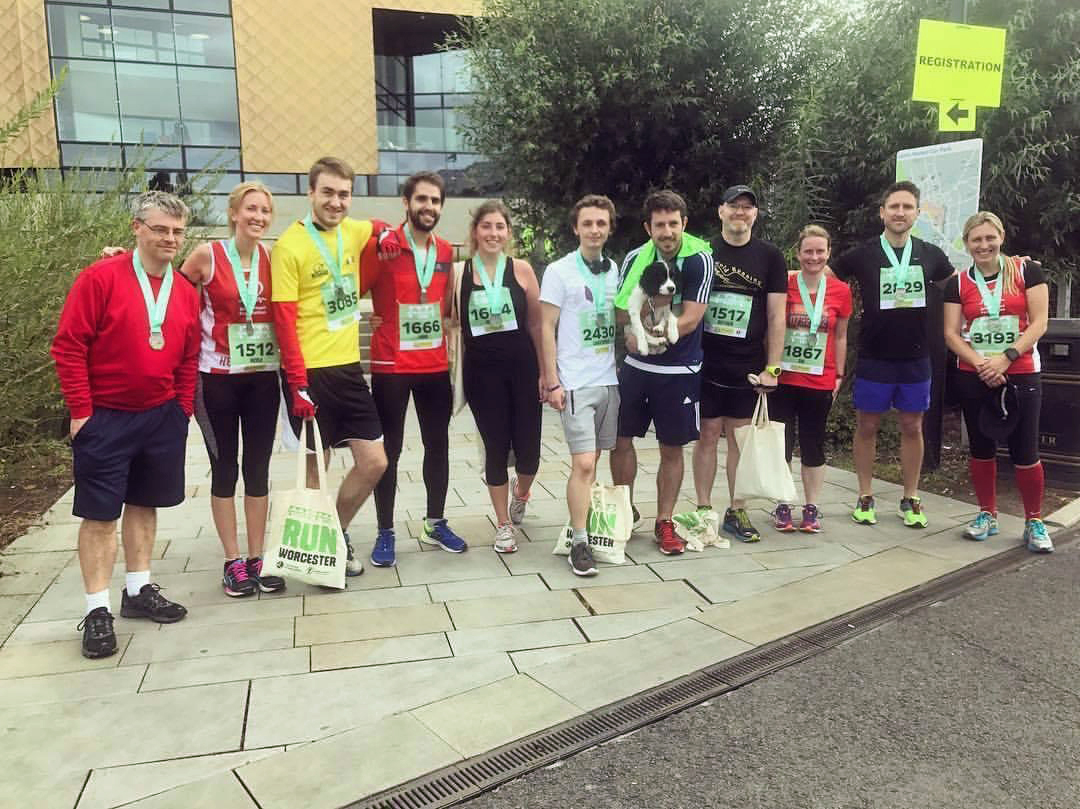 Fundraisers and fun runners are signing up in their hundreds for the Virtual Air Products Worcester City Runs at the weekend. Following the cancellation of the popular festival of running in the centre of Worcester due to COVID-19, the virtual event was launched in June, to raise money for charity partner, the Grace Kelly Childhood Cancer Trust. The Virtual Worcester City Runs include the festival's usual half marathon and 10K distances, but runners also have the opportunity to take part over 5K and in the 'Run Like A Legend Mile'.
Anyone who wants to take part in the Virtual Worcester City Runs can register online at http://worcestercityrun.com/virtual-event and, with the help of a special app, record and submit their best time for a solo run at any time from 5-7 September. All times that are submitted will be validated and results will appear online. Runners can tackle any or all of the four distances – entry for each costs £12.50 and the price includes a bespoke Virtual Worcester City Runs medal and tote bag, with the option of adding a technical t-shirt or headband to the registration. A proportion of every entry fee will be donated to the Worcester-based Grace Kelly Childhood Cancer Trust. There will be prizes for the top three runners in all three events, plus spot prizes. Everyone who takes part is being encouraged to take and post selfies on social media to create the 'Worcester Wall' as a reminder of favourite locations along the routes of the Worcester City Runs.
Because the event is virtual, runners based anywhere can participate, and people have been signing up from near and far, including local athletics star and previous winner of the 10K Jenny Nesbitt, and event founder Steve Cram. Among those who will be taking part is a large group from the Worcestershire Acute Hospitals NHS Trust. Around 15 runners and cyclists have been persuaded to get involved by consultant cardiologist Will Foster.
Will Foster comments: "Along with colleagues, I will be running this weekend for two causes that have been so supportive of the people of Worcester during the pandemic. The Trussell Trust runs food banks, helping those most in need in our community, and I think that they will be needed even more than usual as the economic impact of Covid-19 continues to unfold. The second charity is the Worcester Acute Hospitals Charity, which supports areas that are not funded by the NHS but which many of us consider to be essential, such as providing iPads and other devices to wards to allow communications with relatives when visitors aren't allowed."
To contribute to the Worcestershire Acute Hospitals NHS Trust fundraising visit https://www.justgiving.com/team/10krun30mileride.
Event founder Steve Cram will also be taking part and adds: "Of course, we're really sad that we won't all be able to get together in beautiful Worcester at the weekend, but we've had a great response to the virtual event. Adding the 5K and mile means that there is a distance that any runner can attempt, and plenty will be having a go at more than one. Crucially, every entry contributes to the Grace Kelly Childhood Cancer Trust, which like many charities has been experiencing a very tough time in recent months, and it's brilliant that Will and many more participants are also raising money for other good causes."The Air Products Worcester City Runs are delivered through a partnership between Worcester City Council and Events of the North. The full schedule of races will return in 2021. For the latest news about the Worcester City Runs, visit www.worcestercityrun.com, follow @worcesterrun on Twitter and @worcestercityrun on Instagram, or find the event on Facebook