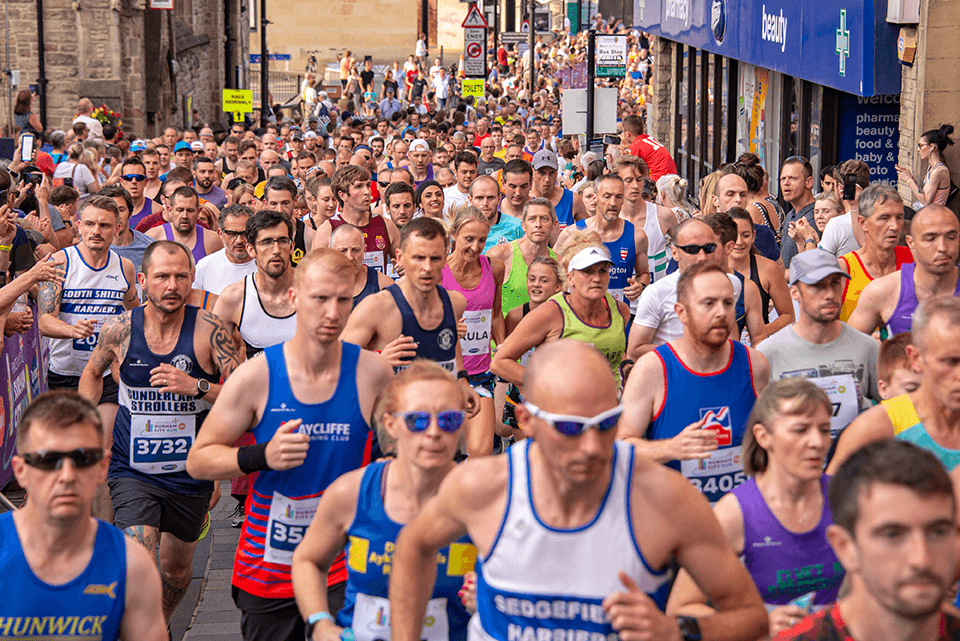 Organisers of the Durham City Run Festival have announced the cancellation of this year's event, due to the ongoing COVID-19 pandemic. The festival had been postponed from July until October, but after extensive discussions with Durham County Council, Durham University and other event partners, Events of the North has confirmed that the Prince Bishops Durham City 5K and 10K, Run Like a Legend Mile, Paula's Families on Track and other festival features will now not take place in 2020.

In April, Events of the North, Durham County Council and Durham University made an early decision to postpone the Durham City Run Festival and agreed a new date in October, subject to circumstances allowing the rearranged event to go ahead. Meanwhile, a successful virtual festival was held in July, raising funds for charity partner St. Cuthbert's Hospice.
Since announcing the postponement, event partners have been closely monitoring the ongoing situation with regard to the COVID-19 restrictions. They have now concluded that, in the context of the latest guidelines from the Government and Public Health England, it will not be possible to safely deliver a mass participation races in October. Organisers will now start planning for a full return in 2021.
Event founder Steve Cram comments: "We are really sorry to have to take another difficult decision and cancel the re-arranged Durham City Run Festival. Although the gradual return of some activities gave us hope, there is still too much uncertainty around mass participation events to enable us to be 100% confident that we can deliver a safe event in the manner that everyone would desire.
"The Durham City Runs are renowned for the iconic nature of the routes through the city centre and the incredible atmosphere generated by the spectators and runners amidst its famous landmarks, which obviously we cannot deliver under current guidelines. Instead, we will have to look forward to 2021 and hope that we can all enjoy a rejuvenated festival next July.
"We are grateful to Durham County Council and all of our partners for helping us consider all options up to this point. However, more than anything at this moment, we are so disappointed for all those who had been looking forward to participating. The Virtual Durham City Run Festival was a great success, but we share everyone's frustration at not being able to run in the events that we all enjoy so much. Events of the North is committed to keeping runners motivated – we will continue to explore opportunities as restrictions change and we can't wait to welcome everyone back to Durham next summer."
Cllr Joy Allen, the council's Cabinet member for transformation, culture and tourism, said: "We are as disappointed as everyone else that we are not able to hold the Durham City Run Festival this year. We were really hopeful that by postponing the event from its original date the situation with coronavirus would have eased enough to allow us to hold it safely in October.
"Sadly, this is just not going to be possible, but we look forward to welcoming runners back to Durham City next year all being well and we hope everyone stays fit and healthy in the meantime."
All those who have booked places for a race at this year's festival have been contacted with the news and their entries will automatically be deferred to 2021 unless they indicate otherwise. For the latest news about the Durham City Run Festival, visit www.durhamcityrunfestival.com, follow @durhamcityrun on Twitter and Instagram, and find the event on Facebook.