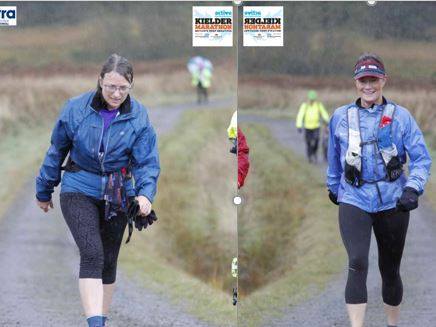 On the day of the Active Northumberland Kielder Marathon, two competitors will be limbering up to take on the challenge from more than 4,500 miles away.
Travel restrictions mean that Dawn Haworth, originally from Newcastle, and Diane Woollard, originally Milton Keynes, won't be able to make the trip from Canadato the banks of Kielder Reservoir on Sunday (October 3).
But having run Kielder Marathon in 2018 and taken part in the 2020 virtual event, the pair , are doing the same again.
On Sunday, they will be running 26 miles around their local National Park, which includes circumnavigating Quebec's famous Lac Philippe and its 10.5 mile shoreline, trying to recreate the magic of Kielder as closely as possible.
Dawn, who is Chief Executive of the Canadian Academy of Sport and Exercise Medicine, which supports her running endeavours to promote exercise and wellbeing.
She said: "I couldn't get over to Kielder, so I got in touch and asked could I do the run virtually again, like I did last year, and the organisers said yes.
"So, they're getting the bib and medal to me, via family back home in Northumberland, and I bet there aren't too many of those on runners around Canada."
Dawn signed up to the first Kielder Marathon back in 2009 but was unable to attend. However, she brought a group of friends across in 2018 for a wet, but enjoyable run. 2021 will see her miss out again on the beauty of Kielder, but she isn't letting that stop her and Diane from putting in the miles.
"Kielder is probably the most beautiful marathon in the world and while I live in a National Park, and we will do our run here, it's a different kind of beauty. It has some hills, but not like Kielder does. We've tried to match it up as much as we can to the Kielder Marathon."
The Active Northumberland Kielder Marathon is run by Events of the North, a company led by Olympians Steve Cram and Allison Curbishley, supported by event hosts Northumbrian Water, as well as Northumberland County Council, Northumbria Healthcare NHS Foundation Trust, and Active Northumberland.
Allison Curbishley said: "Dawn and Diane's commitment to the Active Northumberland Kielder Marathon is brilliant and we know their efforts to run the race here in Northumberland over the years have had more ups and downs than the course itself.
"So we're really glad that they are getting in the spirit on Sunday and taking a little bit of Kielder to Quebec and flying the flag for our event. We hope to see them here at Kielder in future years and wish them the best of luck on their virtual race."