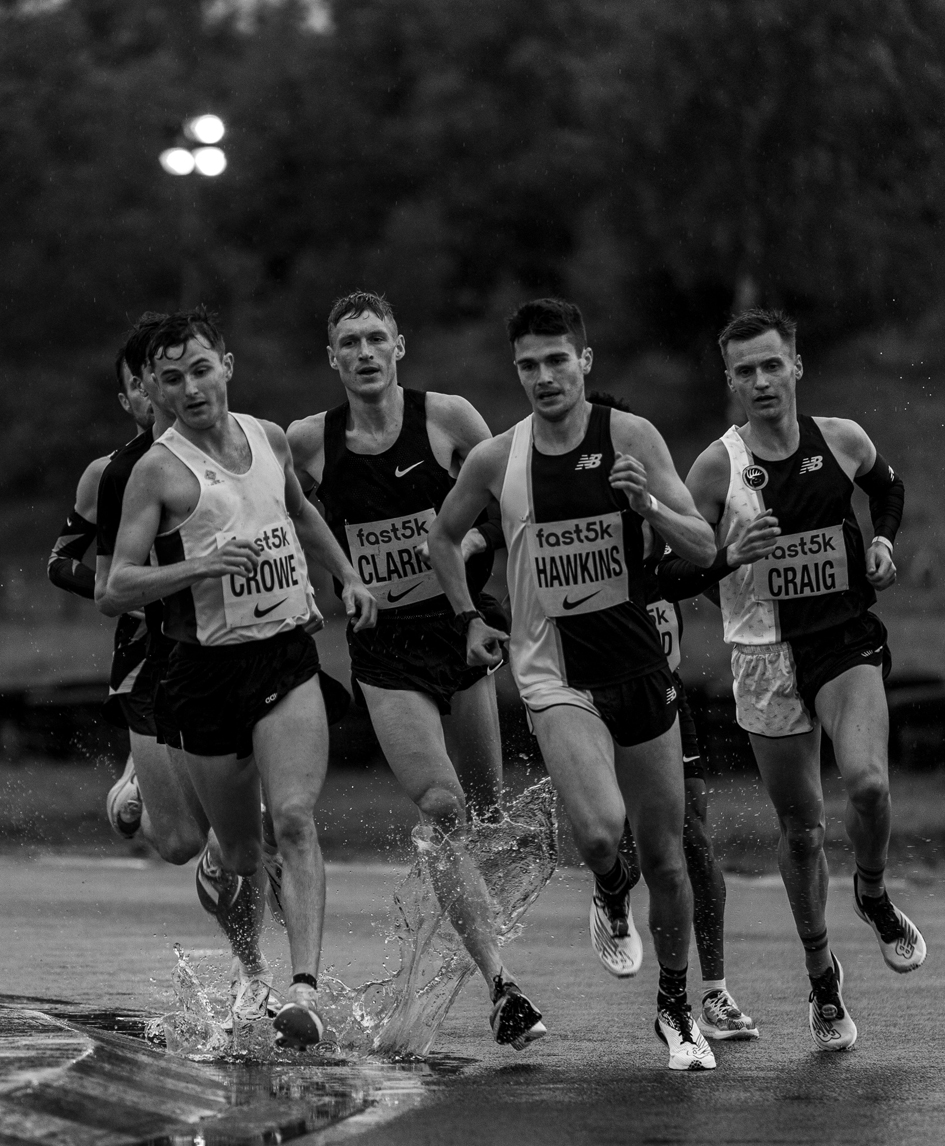 USA's Eric Jenkins wins men's race
Brit Laura Weightman sets new road 5K PB in winning women's race
fast5K was a new COVID-compliant, invitation only elite event organised by Steve Cram's events company
---
A strong line up of elite athletes raced in challenging conditions at the inaugural fast5K event on Monday evening. Despite persistent rain on a cool night, both men's and women's races saw competitors record some fast times at the Three Sisters Race Track in Greater Manchester. The new COVID-compliant, UK Athletics sanctioned event was organised by Steve Cram's company, Events of the North.
The men's race went off first and USA's Eric Jenkins led from start to finish. After a blistering pace in the early stages (2:36 for the first kilometre), Jenkins had to dig in during the final kilometre, and crossed the line in 13:52, ahead of GB athletes Adam Clarke (13:57) and Adam Craig (14:02). Callum Hawkins was racing as part of his preparations for the World Half Marathon Championships later this month and finished fifth in a road 5K PB of 14:05.
Speaking after the race, Eric Jenkins commented: "Conditions were a bit sloppy out there, but overall, I am happy with how it went. I went out good and quick and paid for that later. During the last 2K I was feeling it in my legs a bit."
In the women's race, Brit Laura Weightman and Australia's Jess Hull pushed the pace together early on. Weightman started to build a lead after the first kilometre and continued to stretch that out during the rest of the race, finishing in a new road 5K PB of 15:10. Hull crossed the line in second in 15:50 and GB's Amelia Quirk was third in 15:54.
Laura Weightman commented: "That was perfect weather for a northern athlete to be racing! I'm delighted with that after a long, hard track season. In the future, with some more girls in the race, sub-15 will be a big and achievable target."
Race director Steve Cram commented: "There was some really high quality running tonight, in tough conditions for fast racing. Congratulations to Eric and Laura, and huge thanks to all of the athletes, officials and volunteers who made the inaugural fast5K event such as success. We've demonstrated how we can safely stage and broadcast racing like this at a great venue and I hope that we will be able to host more – and potentially bigger – events in the not too distant future."
The fast5K was streamed live on the BBC Sport website and is still available to view at https://www.bbc.co.uk/sport/live/athletics/54317805.