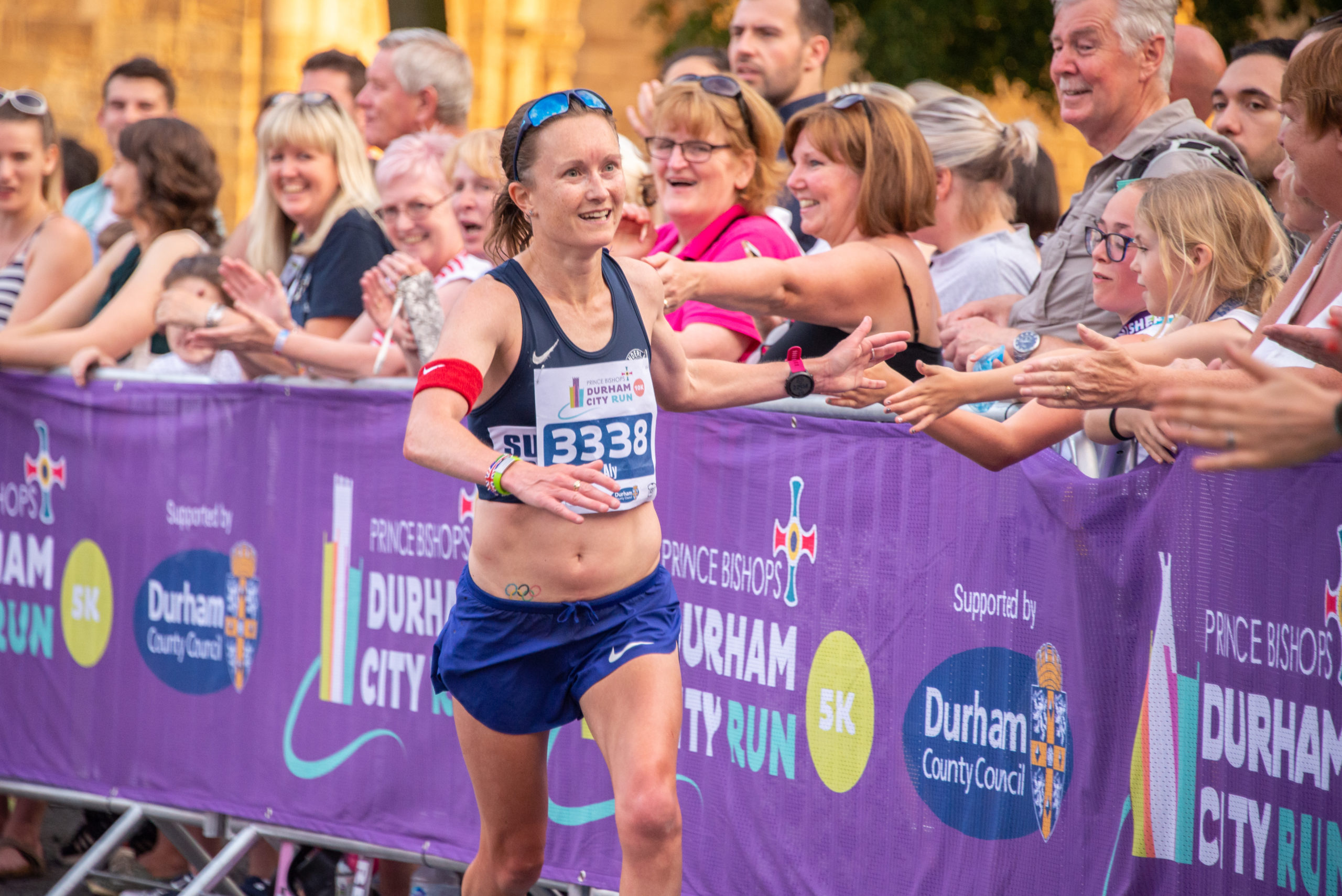 Last weekend's Virtual Durham City Run Festival has been hailed a success after raising thousands of pounds for St. Cuthbert's Hospice. Around 900 people completed 10K, 5K or one mile 'races' and hundreds more got involved in a series of live online events, which concluded with an All Star Question of Sport on Sunday, featuring some of the biggest names in British Athletics.
The Virtual Durham City Run Festival was organised by Events of the North and supported by Durham County Council and Durham University. Like the festival that was originally scheduled to take over the centre of Durham and the university's Sports and Wellbeing Park at Maiden Castle last weekend, the virtual event included races, live training sessions, and Q&As with experts from the world of athletics. A late addition to the programme was All Star Question of Sport, which saw Durham University's intercollegiate quiz champions Stephenson College taking on teams led by Paula Radcliffe, Colin Jackson and Jeanette Kwakye. The event was hosted by Steve Cram and was broadcast live online on Sunday evening, as the festival finale.
A proportion of every entry fee for the Virtual Durham City 10K, 5K and Run Like a Legend Mile was donated to charity partner St. Cuthbert's Hospice, with over £2,500 being raised as a result. Participants in the virtual mile included event founder Steve Cram, as well as Team GB marathon star Aly Dixon and former leading North East athlete Lewis Moses. All three finished in the top 10 in the final results – Lewis Moses was first overall in 4 minutes 24 seconds, Aly Dixon was first lady (and fifth overall) in 5:22 and Steve Cram was eighth overall in 5:37, almost 35 years after breaking the world record at the same distance (in 3:46.32). Moses also hosted an online celebration of the mile, during which Cram answered questions and shared his own views about what makes it so special, along with tips on how to train and prepare for running the classic distance.
Event founder Steve Cram comments: "There have been a lot of virtual events popping up recently, so it was fantastic to see so many people racing in the Virtual Durham City Run Festival. We had participants from throughout the North East and UK, and from as far away as Qatar, Indonesia and Singapore, and I'm delighted that we raised so much money for St. Cuthbert's Hospice.
"All Star Question of Sport was a really enjoyable way to round off the virtual festival. Huge thanks to everyone from Durham University who got involved and to Paula, Colin and Jeannette who really got into the spirit of the event as team captains.
"Of course, we're all desperately keen to resume hosting events like the Durham City Run Festival in the streets and venues of Durham, but in the meantime, the virtual festival certainly seems to have captured the imagination of the public."
Jade McArdle, senior community & events fundraiser at St. Cuthbert's Hospice, adds: "We're absolutely amazed at just how many people got involved in the Virtual Durham City Run Festival. We had several runners take part from our hospice running group and we know how much they enjoyed it. The fabulous amount raised is enough to pay for 100 hours of nursing care in our in-patient unit. That's 100 hours of care, kindness and compassion. We really can't say thank you enough to each and every one of the participants."